The purpose of this blog post is to inform couples of ways that people are managing the potential loss of their wedding deposits.
Given the sensitivity of this topic, we want to remind readers that PlanEvents.ca is not a legal, financial, contract, or advisory professional of any sort. Therefore, the contents of this post and our site should not be interpreted as legal advice.
Prior to digging into options for managing potential losses related to wedding vendor deposits, we wanted to share some interesting statistics that PlanEvents.ca discovered through a survey that was done at the end of April 2020.
Early in April 2020, PlanEvents.ca observed that many couples were faced with potentially losing large sums of money tied up in their wedding vendor deposits. We wanted to understand how the problem is affecting couples, so at the end of April, we carried out a survey to understand how couples are being impacted.
Below is a graphic that shows what the potential loss looked like for each of the 29 respondents.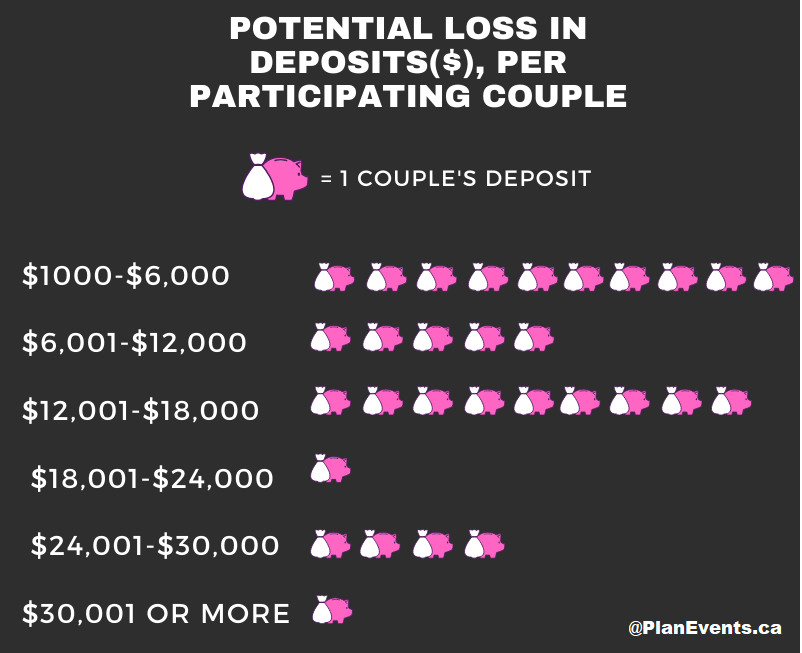 Below are some quick statistics from the study:
The total potential loss for the

29

couples who participated in the survey, was $375,350 CAD.
The largest total potential loss for one couple, was $50,000 CAD.
The average total potential loss was $12,943 CAD per couple
65.5% of respondents reported potential losses of at least $6,000 CAD
 51.7% of respondents reported potential losses of at least $12,000 CAD.
Keep scrolling down to see 3 ways couples are managing the challenge.
The results from our survey illustrated the fact that many couples have large sums of money on the line. By the same token, many vendors have a variety of reasons for why deposits cannot be refunded.
3 Ways Couples Are Managing Potential Loss of Deposits
With that said, below are 3 options couples can explore, if there are concerns with recovering deposits.
1. Talk to your vendors – While this suggestion may seem obvious, our team has seen scenarios where people have expressed concern with losing their deposits, before reaching out to their vendors. Through having a transparent conversation with your vendors, there is an opportunity to discuss options that could work for both the couple and the vendor(s). In some scenarios, vendors may be even willing to make exceptions to their deposit policies.
2. Sell your deposit – One option is to sell your wedding vendor deposit to another couple. To help facilitate this option, PlanEvents.ca launched their wedding deposit marketplace, where couples can buy and sell deposits from each other. One thing to note is that not all vendors will allow buying/selling/transferring deposits across couples and/or contracts. Therefore, it is important to check that your vendors are willing to support this option.
3. Explore legal options – We won't go into too much detail into legal options. What we will say is that we have talked to couples who are exercising legal options. We also did a podcast episode with a Vancouver-based lawyer, who discusses what options could look like for couples stuck in this situation. The episode can be found by following this link.
Have any questions or feedback? Feel free to let us know in the comments.