Choosing between India and British Columbia for wedding shopping is a frequent debate we see brides go through.
According to a PlanEvents survey, 67% of survey respondents prefer traveling to India for bridal shopping. In this blog post we'll go over some of the common advantages and disadvantages brides have shared, along with some tips:
Advantages
1. Shopping in India is generally cheaper.
       –  Brides report saving up to 66% on costs.
2. Vast selection
3. While some brides choose to do all of their shopping in India, some brides point out that India is primarily good for buying:
        – Bridesmaids outfits
        – Sangeet bridal outfit
        – Wedding Cards
        – Jewelry
        – Shoes
        – Sweets
Disadvantages
1. For brides who are particular about style, fitting, and alterations, India might not be the best place to buy your wedding and/or reception outfits.
2. Since outfits may not be ready before you head back to Canada, you may need someone else to bring your outfits back from India.
3. Service isn't always that great in India.
4. You will likely have to pay a duty when bringing goods from India.
5. You won't always save money.
Tips
1. Brides have also recommended going to ICICI Bank in Surrey, British Columbia, to get setup with an Indian bank account, cheques, and a debit card. This makes buying in India easier.
2. Delhi may offer greater variety and pricing than other cities in Punjab, since Delhi has a bigger market for bridal fashion.Some suggestions brides have given to shop at are:
        – Karol Bagh
        – Frontier Raas
        – Frontier Bazaar
        – Bansal Saree Emporium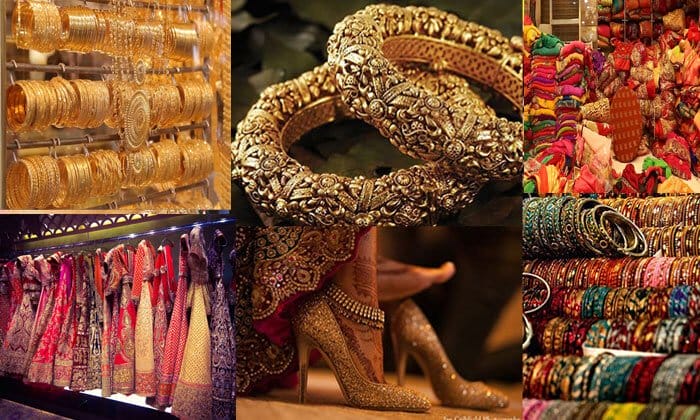 Places to Shop in India
If you choose to shop in India instead of Surrey or Vancouver, the following businesses have been recommended by brides, broken down by city:
 

Ludhiana

        – Batra Plaza

        – Roop Kala

        – Femme Fashion

         – Mani Ram and Sons

         – Ladlee

         – Choice

         – Maharaja's

         – Kala Mandir

 
Chandigarh
           – Frontier Raas
           – Sham Fashion
           – Bittu Fashioners (for jewelry)
Phagwara
          – Basants
          – Frontier Bazaar
          – Billa Silk Sarees
          – Bombay Cloth House
          – Bedi Silks
          – Timmi Nagpal (for shoes)
          – Naina Fashions in Adalat Bazar.
          – Geetanjali Creations
          – Nazakat Jewelers (for jewelry)
Mumbai
Sheetal Sarees
Aishwarya (in Santa Cruz area)
Have suggestions or feedback? Leave us a comment!