Welcome to our Annual Wedding Report for 2020!
For those who don't know, we publish this report each year. Last year's report can be seen here. In this year's report, we will talk about a variety of trends that range from the rising cost of weddings, to the projected impacts of COVID19 on the wedding industry.
By the way, if you already know which vendors you want to use, we recommend you request to our wedding price sheet. The sheet contains a list of vendors and their prices.
Much of the last year saw an increase in the size of guest lists, amenities, and dollars spent on weddings. Based on a PlanEvents.ca survey, the planned guest list had an average of approximately 280 people. That is a 30-person increase since our last report. One interesting trend we saw was that once the lower mainland entered a lock down in March 2020, survey respondents began to plan for even larger guest lists (our assumption is that these couples were planning for post-lock down). The average guest list size for this group of survey respondents was about 357 people, for people who took the survey once North America went into lock down due to COVID19. The larger guest list sizes surprised the PlanEvents.ca team because we expected that after quarantine, the planned guest lists would shrink. 
Guest lists aren't the only thing that grew in the last year. The average amount that people spend on a wedding vendor was estimated to be $86,139 CAD, if the guest list had only 250 people. The pride is a relatively small increase compared to the prior year, where the average amount was a couple thousand dollars cheaper. Based on our surveying and research, we anticipate the increase to be primarily due to inflation. Below is the breakdown of how money was being spent.
The amount of money people were spending on weddings is relevant, but quickly became a less important statistic when COVID19 lockdown began taking place in March 2020. As soon as couples began to realize that COVID19 was going to impact their wedding dates, we observed many brides and grooms run into challenges with postponing their dates. In April 2020, we ran a survey to understand the amount of money couples were at risk of losing in deposits. The infographic to the right illustrates how much deposit money was at risk, for each couple.
As you can see, 10 out of 29 couples potentially lost $1,000 to $6,000 CAD. The remaining 19 couples potentially lost at least $6,001 CAD in wedding deposits. 
Keep scrolling down to see more interesting facts.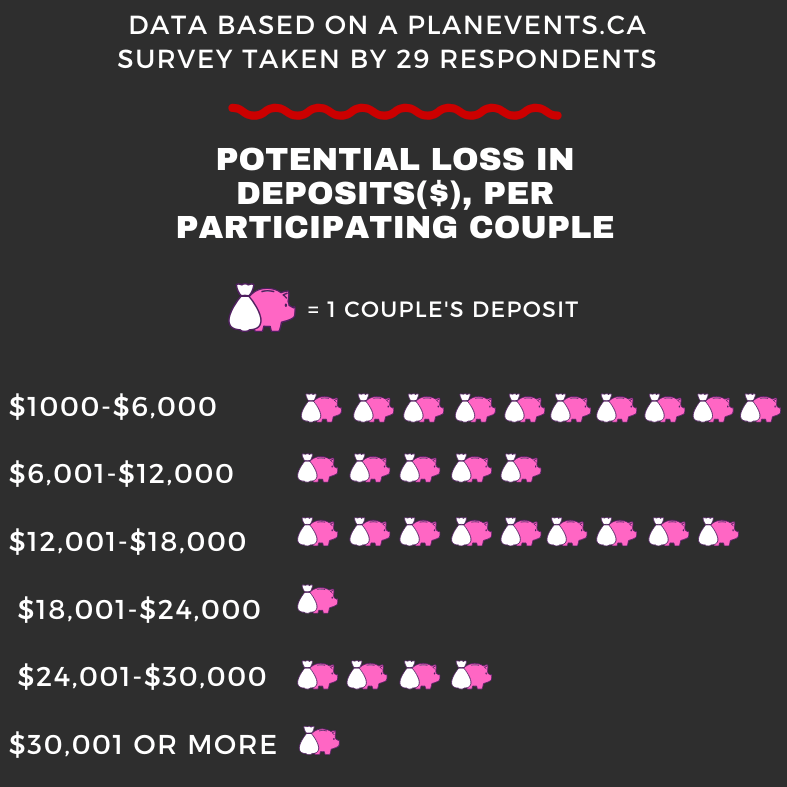 The infographic below shows the largest potential loss for one couple, along with a few other key statistics.
The COVID19 pandemic had a profound effect on not just the South Asian wedding market in Canada, but the economy overall. Countries like the United States saw the highest unemployment rates since the Great Depression of the 1930s. Canada's situation is similar, in the sense that it is running some of the highest budget deficits in recent history. At the end of April 2020, Canadian officials were projecting that it would take at least 2 years for the economy to recover. Without going into too much detail about economics, one thing is clear…the economic impact of COVID19, is far broader than the wedding industry. So…what does PlanEvents.ca think this means for the South Asian wedding market? 
Well, here are our projections…
1. Weddings will get smaller…for now. While most couples chose to push their weddings to the future, some have still chosen to shrink their guest lists while others may not. During the quarantine periods in March and April 2020 alone, we have seen both happen. For example, we interviewed one groom who managed to get creative with how he and his wife coordinated their multi-day event. The groom and bride essentially invited one group of guests to their mehndi, another group to their wedding ceremony, and another group to their walima. On the other hand, other South Asian couples have chosen to get married during quarantine. They achieved this by keeping a small guest list, while also maintaining social distance rules at their events. One example of this was seen during our interview with Affine Weddings, a wedding planner in Vancouver, British Columbia.
2. Weddings might get cheaper…for some. Based on our surveying, couples were spending approximately $345 CAD per guest, when including all costs (e.g. venue, food, bar, clothing, etc.). For example, if a couple keeps their guest list to 40 people (let's assume they reserve 10 headcount for vendors), a wedding could be done for under $14,000 CAD. On the flip side, couples may choose to spend more money on amenities, such as customized menus, lavish wedding favors, and more, to make up for the smaller guest list. The answer to this really varies.
3. More may be expected of vendors. For instance, if weddings get smaller, then videographers may need to be equipped and trained on how to live stream events onto online platforms like Zoom, YouTube, and more. While couples may be required to shrink their guest lists, they may still want to share their big day with other friends and family who must attend remotely.
4. Reading contracts more thoroughly and adding provisions for unpredictable events like COVID19. As mentioned earlier, couples who are potentially losing money in deposits due to COVID, risked losing nearly $13,000 CAD on average, based on a PlanEvents.ca survey. Based on both the experiences shared by couples, as well as the information shared in a recorded 1 hour Q&A session with attorney Rami Hayre, language within contracts seemed to be a common cause for the loss of deposits. Therefore, we anticipate that couples will be reading their contracts in more detail, and possibly even requiring vendors to add in clauses that protect couples from losing deposits, in the case of unpredictable events like a pandemic.
In conclusion, what we've learned is that while PlanEvents.ca has been able to gain insights into Indian wedding trends in Canada for the past year, COVID19 has created a lot of uncertainty on what to expect. Our anticipation of what the future holds, is based on both statistics, as well as conversations we have had with couples.
Time will tell.