If you watched Season 2 of Netflix's Love is Blind, keep reading!
One of our employees recently slide into Smiley's DMs, and had an opportunity to interview Smiley Singh. If you don't know who Smiley Singh is…you need to watch Season 2 of Love is Blind, specifically the wedding episode. He was the dholi for Shake and Deepti's baraat!
Enjoy the interview below!
Smiley - how did you get that name?
"Smiley Singh" is a namesake that was born out of a movement I started, called the "Have You Smiled Today?" campaign. The campaign grew from my realization that even though we may have been afforded all the unconditional love, energy and support, we can still be subjected to mental health and periods of darkness.
Growing up, I had everything I needed -a loving family, a roof over my head, a strong support system, and more. Being fortunate with having all of these unconditionally, I felt that I was well equipped to tackle everything life brought my way. From moving away from family to a grad school program that I wasn't happy with in an environment that wasn't minority friendly, to dealing with a break up and dealing with the losses of loved ones, I had a period where most days it was hard to find a reason to smile. 
At some point, I reflected about those who may not have had the same support systems or opportunities to talk about mental health as I had growing up. That is when the "Have You Smiled Today?" campaign began to take shape. Originally, I started #HaveYouSmiled today as a reminder to myself, that no matter what they are going through, there is always one thing they can take away that is positive from their circumstances. I felt like the mantra was something others could benefit from, so the campaign was launched with the intention of spreading that to others. As my platform grew, the natural progression landed on the name Smiley Singh.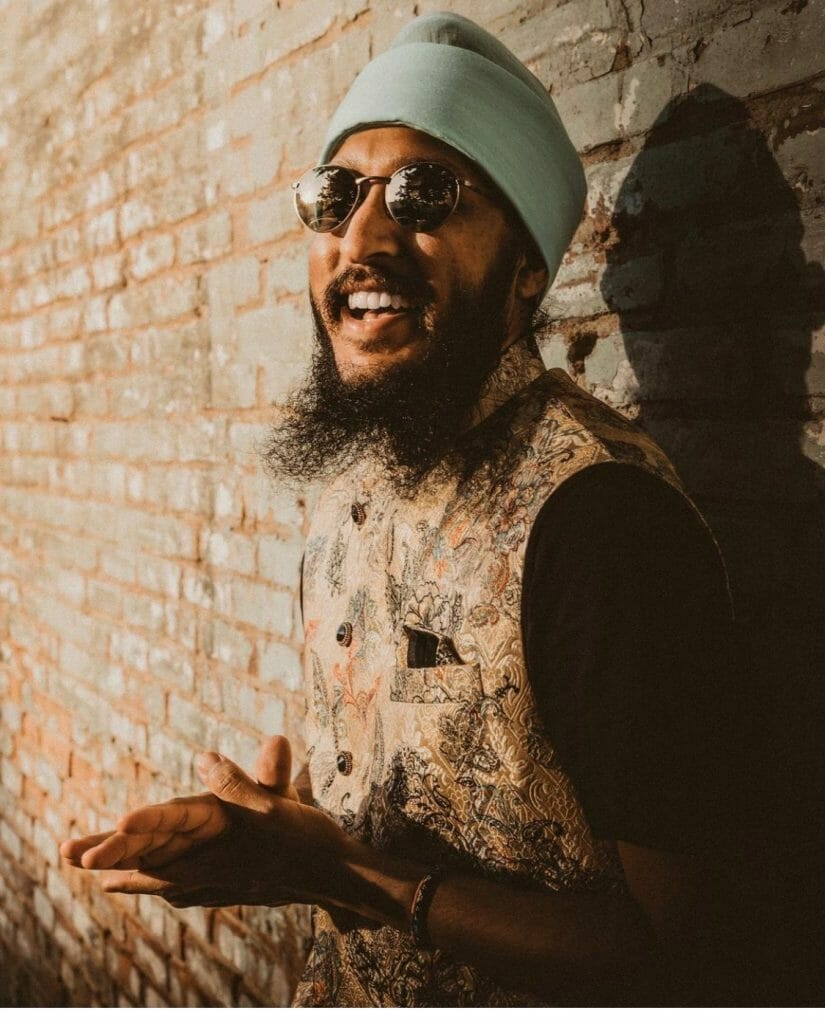 Love is Blind was noteworthy for South Asians for so many reasons that ranged from getting visibility into the romantic lives of diasporic people, to the festivities that are often involved in many Indian weddings. How did you get roped in?
With the grace of the support of the music community, another dhol player recommended me as a referral to the Love is Blind producers. I was then contacted by the producers of the show a few weeks prior to the shooting of the season finale. At the time, I had no idea that the call was going to be for Love is Blind until the subsequent calls.
How did you feel, when you were offered the Love is Blind gig?
During my first call with the producers, they did not specify what the gig was for, so I treated it like a regular booking. At this point, I didn't know the gig was for Love is Blind. I didn't know that the that the gig was for Love is Blind, until after I had committed to the gig. Even after finding out that it was for Love is Blind, I didn't have super strong feeling. With anything that is happened in my life, I try to take any and every opportunity with grace and whether the footage would be aired or not, I was happy to check an experience like this off of my list.
It was interesting because in my earlier conversations with the producers, I was given the opportunity to give some feedback and insight in the South Asian culture and practices surrounding a Baraat and subsequent events. So I got an opportunity to not only be a dholi, but to also provide guidance on how to go about the Baraat.
4. What was the Love is Blind experience like, on the set?
It was a lot of fun. A lot of it involved waiting around, as when I got to the set, they were still setting up the space and cameras. The venue and ambience were amazing.
All the weddings on that show were all filmed in that same location and venue, by the way!
All the producers were involved, so I got a chance to meet them all.
For most of the production staff, this was their first experience with an Indian wedding, so I got the opportunity to lead the Baraat group through the process(e.g. helped with a little choreography, instructed the groom's party on how to proceed down the aisle).
By the way, we only did one take for Baraat!
Interacting with Shake, Deepi, and their families was fun. I spent time with Shake and his family a couple hours leading up to the event. Everyone seemed nervous because they weren't sure what the wedding would end up looking like, since so much of the crew had limited exposure to Indian weddings.
The environment was lighthearted. Shake was positive, and nice to me and the crew.
Overall, everyone was positive in general.
That is all we have for now. We plan on publishing a follow-up interview with Smiley, where we go into more depth about his career as an artist. Stay tuned!