Earlier this month, I was thinking about how PlanEvents.ca could share something that celebrates Pride month. After giving it some thought…we figured, why not feature some of our favorite wedding pics from the LGBTQIA+ community. Hopefully these pictures inspire you to not only marry whoever you want, but also get some outfit inspo as well!
So here you go – enjoy!
Sundeep (Sundeepdosanjh) and Sharath (@sharathpsych)  have an amazing story about how they met, during the pandemic (you can listen to a short version of this story, here).  Sundeep is a Sikh Punjabi and Sharath is from the Kodava community (a community primarily in Karnataka). The two of them did both the Sikh and Kodava ceremonies. Here is a picture from their Anand Karaj (the Sikh Ceremony). We know all these details because we had a chance to interview them a little more than a year ago. 
This next picture is from Deepa (@godeepa) and Gauri's (@good__gal__riri)'s wedding. The two Bay-area based women tied the knot earlier this year (2022). Their outfits and jewelery were from @banudesigns and @banubrides. 
You can learn more about them by checking out this interview they did with DilMil.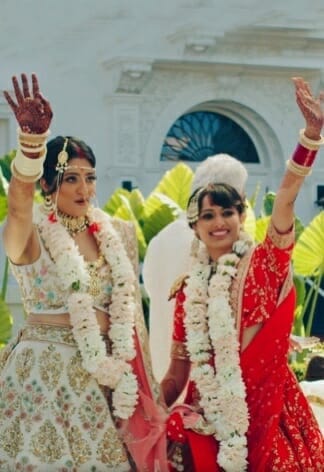 Suja (@smathew76) and Natalie (@nataliebezgin)  are two working professionals based in the east coast of the U.S. Suja is a leader in the space of mental health and Diversity, Equity, and Inclusion. Natalie is an OB/GYN Nurse Practitioner, and both use their careers to advocate for equality for underrepresented groups. Here is a picture from their wedding photos. You can read their story over at Official People of India.
Amit (@hemochemomd) and Martin (@thefashionablecouple) tied the knot a few years back, and had a grand event in Manhattan. Martin is an entrepreneur and activist, and Amit is a professor of Medicine. Their wedding was featured in the New York Times and Vogue India. 
Here is an amazing picture of the two on the Brooklyn Bridge! 
You can read their full story over at Brown Girl Magazine.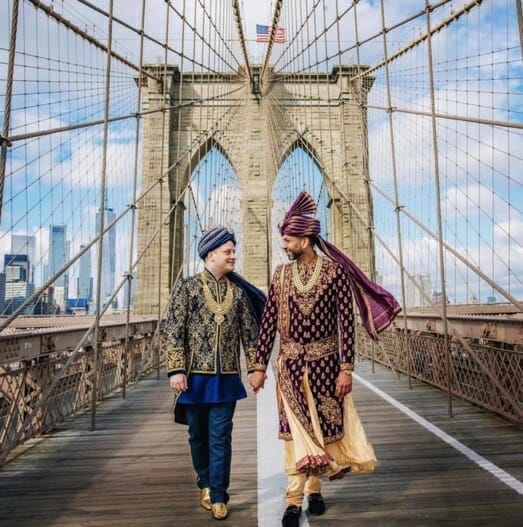 Daniel (@haldard09) and Pothik (@pothikc) tied the knot several years ago. Based in the east coast of the U.S., Pothik is a contemporary artist and Haldard is a doctor. The two had a traditional Bengali wedding. Here is a picture from one of the festivities! 
That's all we have for now. Hopefully you enjoyed this. Want to be featured in a post like this? Let us know by DM'ing us on Instagram over at @planevents.ca!