Before you read this post –  if you'd rather pay  someone to come up with your Indian wedding hashtags, then hop on over to our  Wedding Hashtag service. If you want to come up with your own hashtag, take a look at the examples and tips below!
15 Indian Wedding Hashtag Examples
Simran, a flight attendant, reached out to us to create a hashtag for the two of them. Her husband-to-be is Rishi.
Originally, we wanted to create a hashtag related to either Simran's profession, or something related to their Punjabi ethnicities. In the end, we did neither.
Instead, we came up with #SimGetsHerRish, which is a play on "Sim Gets Her Wish".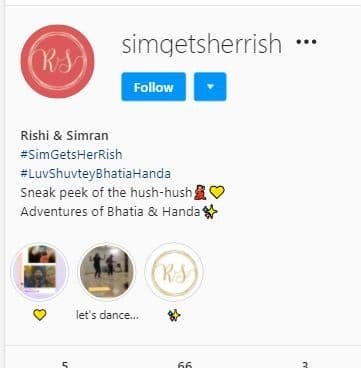 We had another couple, who both had the last name Gill. We ended up keeping it simple, and gave them the hashtag #DoGillEkDil, which translates into "Two Gills, 1 Heart".
Kamalpreet and Kamran go by the nicknames, Kami and Kam. They ended up going with the hashtag #KamSquared. Lucky for them, they figured out their hashtag years before getting married.
Now they get to benefit from the hashtag in two ways. First, they can use the hashtag to document pictures throughout their relationship. Those pictures get to be used for their wedding reception slideshow. See the screenshot on the right.
Second, they get to use the same hashtag for documenting their wedding festivities.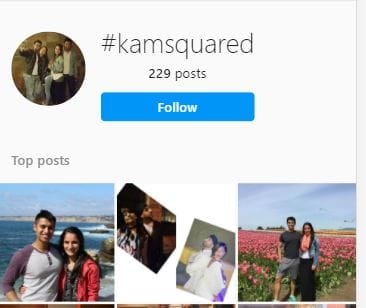 A sister-in-law reached out to us, asking for hashtags for her sister and her future brother-in-law. Her future brother-in-law's last name is Juneja.
We tried to think of puns and rhymes that could go with Juneja, but recognized that another approach would be better. That approach helped us land on #JunoonForJuneja.
A groom reached out to us asking for a hashtag for his wedding. His last name is Kukreja. It was difficult to find words that rhyme with Kukreja.
However, we discovered that we could make a pun on the film, Kuch Kuch Hota Hai, by setting the hashtag to #KukrejaHotaHai.
Ms.Patel, who was marrying another Patel, reached out to us to come up with with a hashtag for the two of them. That left us limited to either using both of their first names, or making the best of their shared last names.
We went with their last names, since it had the most potential. Hence we created #ALovePatel, which is a play on "A Love Tale".
One bride reached out to us about her wedding to her future husband. Originally, we wanted to make their hashtag related to their professions (dentist, etc.).
Through the creative process, we realized that the husband's last name (Rizvi) offered the most flexibility, so we went with #ReadySetRizvi.
Sandy and Prabby met each other years ago, and recently got engaged during COVID19. Prabby, the groom, is known by friends and family for being full of energy and rambunctious.
Therefore, they ended up choosing to go with the hashtag, #SandysPrablem, since now Sandy has to deal with his shenanigans!
Sometime in 2020, Nav was in the middle of planning her wedding to her husband to be (who's name we forget!). We do remember that his last name was Rai.
We came up with a bunch of ideas them, and one of them was #NavFindsMrRai. This was meant to be a play on "Nav finds Mr.Right". 
A while back, Ms.Singhal was getting ready to take her husband's last name. In preparation for her marriage, she needed a good hashtag idea.
So we figured, why not go with #NoLongerSinghal. We figured it was punny because 1. She really was no longer going to have Singhal as her last name and 2. She was no longer single.
Someone had reached out to us to create hashtags for a groom named Kunal, and a bride named Ridhima.
We  ended up coming up with multiple hashtags that played off of their first names and the groom's surname.
One example was #RidhiSetGogna, which is a pun on "Ready Set Go".
You could also try a variation of this pun by using something like #KunalGetsRidhi, which is a similar pun.
If you're changing your surname to Singh, then you can use #HePutASinghOnIt. The hashtag is a pun on "He put a ring on it".
For those who plan on taking Kumar as their surname, we decided to make a play on the phrase "Wish upon a star".
If you're a man marrying a Kaur who is a catch, then you have scored! Seriously though, you can use a hashtag like #HeSkaurs, or some sort of variation of the hashtag.
Lets say you're marrying a person named Ram. Well, keep him and marry him, so that you can #KeepRamAndMarryOn. For those unfamiliar with where we got the idea from, it is a play on the phrase "Keep calm and carry on".
Why Wedding Hashtags Matter
Interesting fact –  through our surveys, we've learned that Indian couples really care about their wedding hashtags. 
Seriously, check out this Instagram survey we took!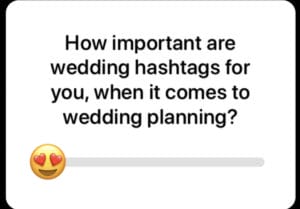 Some of you might be stumped trying to come up with a wedding hashtag, and we are here to help with a few pointers.  We hope this makes the wedding planning process a little easier.keep reading!
Before we jump into the pointers, let's explain what a wedding hashtag is, for those who might not know.  A wedding hashtag is fantastic way to consolidate pictures and videos on social media such as Instagram & Facebook for users.
Anyone who wants to view pictures from a wedding can simply search for the wedding hashtag, and the corresponding pictures/videos from the event will pop up.
Why A Wedding Hashtag is a Great Idea
My Wife and My Wedding Hashtag Story 
When my wife told I needed a wedding hashtag, I thought 'this is going to be easy'. So I Googled hashtag generators . Both of us having Punjabi names,  this wasn't as easy at all. The generator gave us names like
#Panesar&Kandola2017
#PanesarLovesKandola2017

Lesson of the day: Don't use online generators. Instead, use your creativity, or use us :).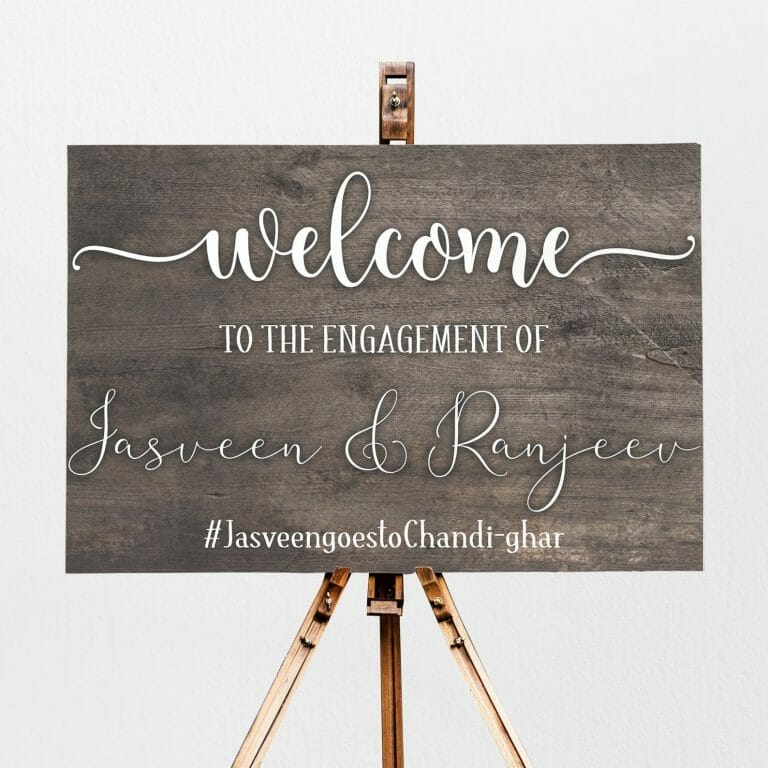 7 Tips on Creating Wedding Hashtags
1. Choose your naming strategy. In other words, nail down which names you want to include in the hashtag. Here examples of the specific names we are talking about. You can go with one or many of the types of names below.
First name of bride and/or groom
Last name of bride and/or groom
Nickname(s) of bride and/or groom
For example, my wife and I decided to use my first name, her first name, and my last name, to craft our hashtag.
2. Come up with a list of words that rhyme with the name(s) you choose in the  tip above. Then pick the words that you are willing to use.
For example, if the groom's last name is Gill, and you both love memes and Netflix, you can use #NetflixAndGill (a play on Netflix and Chill). 
3. Pick themes that represent your and your partner's interests 
Themes could be related to common taste in music, movies, food, the place where you met, and many other ideas.

For example, if the groom's last name is Gill, and you both love Bollywood movies, you could do #GillTohPagalHai.
4. Try finding puns or plays on words. This is a great option for cases where rhyming isn't working for you, see if any of your names can be used as a play on words.
For example, if the groom's last name is Siddiqui, then you could do #TheSiddiquiToHerHeart (a play on "The Key to her Heart").
5. Check the hashtag before you use it. You can do this by going to a platform like Instagram, and checking if anyone has already used your hashtag idea.
6. Share the Hashtag at your events. Let the crowd know that you have this hashtag and to post pictures using this hashtag. This will make it simple for you to re-visit the pictures later.
7. If you're stumped, go with something simple. It isn't critical to go for the wittiest hashtag.  
If you've reached the bottom of this blog post and you're still stumped about creating your hashtag, then use our Indian Wedding Hashtag service. We have a team of people who really kick ass with coming up with witty hashtags.
Additionally, if you're looking for wedding vendor prices, we recommend you request access to our wedding vendor price sheet. The sheet lists out specific vendors and their corresponding prices.