A Quick Intro
Welcome to the first PlanEvents.ca blog post. Our first blog post is a brief interview with Bancy Farms.
Recently, we chose to migrate our vendor interviews from Instagram to a blog. For now, our focus is on Indian wedding vendors in and around Vancouver, B.C.
A couple of weeks ago we reached out to Bancy Farms to do an interview. After seeing a few farm-themed Indian wedding/engagement pictures at their farm on their Instagram, we figured, people need to know about them.
Bancy has gone from growing crops, to growing memories.
There are pics to prove it. Seriously.
Anyways, there is a story behind how Bancy Farms got into this. Look down for pics, and look to the right for the interview.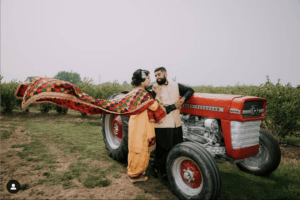 The Interview
PlanEvents.ca: How did the farm get into being a place for Indian wedding photoshoots?
Bancy Farms: It began as a family business, hobby farming – an idea cultivated by my dad's dad which turned into a bit more than just a hobby.
My dad and his brothers planted each and every blueberry plant we own and the whole family has been involved since us kids were 6/7 years old.
Along with the blueberry, our baba used to grow carrots, squash, saag and corn, but sadly he's really aged over the past few years and wasn't able to keep up with the demands so the garden space was left unattended and eventually turned into grass.
We held a few family baby showers and birthdays in the space, but then someone suggested my sister have her engagement on our farm, which was beautiful, and since that everyone's encouraged us to keep moving forward in that direction.
We absolutely love it, amazing suggestion and we've really put a lot of energy into making the space usable.
Our grandpa is especially proud and loves seeing his garden area to use.